PostgreSQL is the DBMS of the Year 2020
by Paul Andlinger, Matthias Gelbmann, 4 January 2021
Tags: DBMS of the year, Microsoft Azure SQL Database, MongoDB, PostgreSQL
For determining the DBMS of the year, we subtracted the popularity scores of January 2020 from the latest scores of January 2021. We use the difference of these numbers, rather than a percentage, because that would favor systems with a tiny popularity at the beginning of the year. The result is a list of DBMSs sorted by how much they managed to increase their popularity in 2020, or in other words, how many additional people started to communicate about it in one of the ways we measure in our methodology, for example job offers, professional profile entries and citations on the web.
DBMS of the Year: PostgreSQL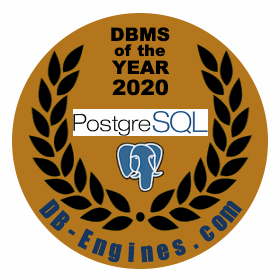 PostgreSQL already won our DBMS of the Year award in 2017 and 2018, and now becomes the first system to win this title three times.
PostgreSQL is known and loved for its stability and feature set. Recent releases have concentrated primarily on improvements under the hood, increasing its performance and efficiency. For DevOps these enhancements are more than welcome, and our popularity scores show this: PostgreSQL had a popularity score of 167 seven years ago, and they stand now at 552. The gap to our top three systems gets smaller every year.
It is worth mentioning that PostgreSQL is the base technology of various systems in our ranking. We list such systems as separate entries if they provide significant DBMS functionality on top of their base. These systems include Greenplum, EDB Postgres, TimescaleDB, Citus and several more.