PostgreSQL is the DBMS of the Year 2018
by Paul Andlinger, Matthias Gelbmann, 2 January 2019
Tags: DBMS of the year, MongoDB, PostgreSQL, Redis
For determining the DBMS of the year, we subtracted the popularity scores of January 2018 from the latest scores of January 2019. We use the difference of these numbers, rather than a percentage, because that would favor systems with a tiny popularity at the beginning of the year. The result is a list of DBMSs sorted by how much they managed to increase their popularity in 2018, or in other words, how many additional people started to communicate about it in one of the ways we measure in our methodology, for example job offers, professional profile entries and citations on the web.
DBMS of the Year: PostgreSQL
PostgreSQL is winning this title for the second year in a row. First released in 1989, PostgreSQL turns 30 this year and is at the peak of its popularity, showing no signs of ageing with a very active community.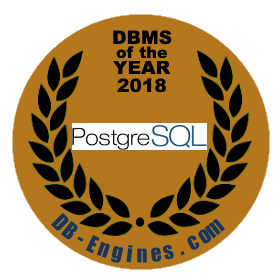 PostgreSQL has established itself as the preferred data store among a large crowd of developers, loved for its stability and feature set. PostgreSQL serves modern DBMS requirements very well in various ways. Based on its solid RDBMS implementation, it extended its scope by supporting JSON data types and operators, thus providing an attractive choice for projects that would otherwise have turned to a document store. More recently, in its latest release, it focused on further improving performance and support for distributed databases in order to meet the requirements for big data scenarios.
One strong sign of how well-established PostgreSQL is in the DBMS market are the various systems in our ranking that use it as their base technology. We list such systems as separate entries if they provide significant DBMS functionality on top of their base. These systems include Greenplum, EnterpriseDB, TimescaleDB, Citus and several more.
Runner-up: MongoDB
MongoDB was our DBMS of the year 2013 and 2014. Its growth in popularity has not stopped since then, and has even accelerated again in 2018, confirming its position as the most popular NoSQL system. However, just like relational DBMSs keep adding features outside their core paradigm, MongoDB also closes the gap by adding functionalities that were in the past seen as outside the NoSQL scope. Most notably, MongoDB added ACID support, which makes a lot of developers much more convinced to rely on it with critical data. Furthermore, improving the support for analytics workloads makes MongoDB a good choice for a larger range of applications.
Third place: Redis
Redis is the most popular key-value store by a long shot. It has been in the top three DBMS of the year systems already in 2014 and repeats that success this year. Redis is best known as a solid, high-performance and feature-rich key-value store. While that is still a perfect use case for Redis, it is also evolving quickly in various directions. The latest release provides a loadable modules system, which means 3rd-parties can now extend the functionality of Redis. The modules available so far offer for example full-text search, graph database and time-series features, JSON data type support and more.
We congratulate PostgreSQL, MongoDB and Redis for their success in 2018.
Previous winners of the DB-Engines DBMS of the Year Award:
2년 연속 수상!!